Genuine Interest in Spirituality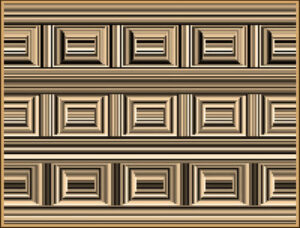 Look at the circles! This image is like enlightening messages: hidden truths between written lines and presumed contradictions only become visible to those interested.
Inter-est (inter = between and est = being) means that which is between us. Being interested is, therefore, genuinely caring about something 'different' or what someone else is telling or is passionate about, even if we don't immediately know what it is, or if it doesn't seem to match our own experience.
It seems clear that very few people show real interest in unknown matters in these chaotic times. Texts (including emails) are often read 'diagonally'. Phones often aren't answered, appointments forgotten, and justifications for this invented. 'I didn't have time' is a common excuse. When presented with unknown information, many quickly switch to listening to their own thoughts and associations, essentially ceasing to truly listen. As if the new information needs to be pulled onto their own train of thought as quickly as possible. These mechanically arising thoughts and associations mean someone creates their own narrative from new information or even worse, they immediately counter with criticisms. So, there's a big difference between truly hearing and listening to your arising thoughts. If there's little interest in someone's information or knowledge, then we see 'blocks' and not 'circles'.
If we want to jointly investigate this fact in truth – philosophy is entirely based on the pursuit of truth – it's important to develop a common language so we can correctly understand each other. Many words might have taken on different meanings. Soon, we could be discussing different things while thinking we're on the same page. Peter Ouspensky once said: 'If we say we understand each other but don't agree, then we haven't understood each other.' Developing a common language, in which we collectively know what we mean, is therefore very useful. This way, we can avoid the proverbial Babylonian confusion of tongues.
If we want to truly connect with each other, we should aim to discover the 'circles' in each other and not be distracted by the 'blocks'. For this, we need to become familiar with our own inner conditioning, as these prevent us from truly hearing each other. After that, we can collectively search for the inner spiritual truth hidden behind conditioning. The 'circular' spiritual truth is the same for everyone – true truth cannot be different for everyone – and might be hidden in every 'blocky' described doctrine. We can discover this collectively by showing genuine open interest and by really listening and hearing. We can further promote this by not just accepting things because they sound good or 'resonate', as is currently so trendy; or conversely, not immediately rejecting things because they don't 'resonate'.
It's essential to discover that much of what is now called spiritual is something different. There are now various trendy mindsets and movements that make people believe they are very spiritual. However, these often just provide them with a good-feeling niche or a new comfort zone, nothing more. Running with 'resonating' easy-to-understand spiritual principles or following a trendy movement limits genuine spiritual understanding. Being spiritual (spirit = mind) means that we investigate our mind as something new and purify it from everything that makes our perception unclear and that which hinders the realization of your True human stature. Therefore, we should begin to investigate our own cherished and perhaps questionable mindsets regarding their usefulness for self-realization and flourishing. First, we can start by no longer repeating popular spiritually-trendy quotes and assumptions that circulate everywhere. No longer ventilate 'second-hand wisdom' to give ourselves and others the idea that you 'fit in, understand everything and are doing well'.
There was a read somewhere on the internet: "We are in a significant shift from what we call the Great Awakening, from a 3D to a 5D consciousness, to a higher frequency where the female energy dominates and the male energy decreases"…
Okay, probably well-intended, but male and female energy (another trendy term) should actually come into balance. Out of balance, whichever way, remains an imbalance, thus lack of clarity and friction. 'To a higher frequency' is also such a popular platitude without further detailed explanation. Certainly, our brain frequency will first need to decrease for a deeper spiritual experience. 'From a 3D to a 5D consciousness' is also never substantiated in detail. It sounds good to many without needing to know what it entails. Moreover, for such a 'big shift', every individual will have to do their very best by not living from aforementioned 3D conditionings while merely expressing enlightened rhetoric. Everyone should start their own inner investigation to live according to what is true and good for themselves and everyone. And what is true and good is the same for everyone; otherwise, it's not true and good. Truth and goodness are hidden in the 'circles'. 'Blocks and circles' go well together, provided 'blocks' have valuable content, and 'circles' connect them.
In the end, we will also have to follow that (painful) theater rule that applies to the conclusion of every professional theater production period: kill your darlings!
Accepting that we temporarily perceive from 'blocks', preventing us from seeing the 'circles' between ourselves and others, we start opening ourselves up with genuine interest to the unknown and begin searching for commonalities rather than differences. This is how we start our own inner transition, enabling us to stimulate and inspire that of others. Only then will that general societal transformation, so desired in our circles, become possible.
© Michiel Koperdraat